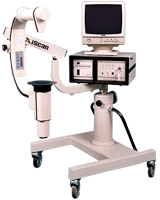 C-Arm sales and service
The new generation Mobile C-arm is an ideal X-ray system to provide fluoroscopic and radiographic imaging for a variety of clinical procedures, including applications in orthopedics, urology, general surgery and gynecology or minimally invasive procedures as well as gastrointestinal surgery or vascular intervention.
The counter-balanced C-arm provides for fast, easy and precise X-ray positioning in every plane of projection while allowing enough room for the proper positioning of the patient.
Whether you are looking for a new C-Arm or have one in need of repair we can help you. We currently have a couple used XI-Scan C-Arms for sale, call us soon before they are gone!